New and Improved Features for Office 365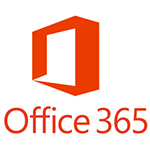 Learn more about Microsoft Office 365 features that are being added this year, and get links to additional content to help you take advantage of these improvements and additions.
---
Updates: November 2017
---
Coming Soon: Office 365 App Launcher
November 7, 2017 - The new Office 365 app launcher is a personalized and simple way to help you open and switch between the apps you use most. Check out the video below for more information:
How does this affect me?

The apps you see in the new app launcher are still based on the licenses assigned to the University of Miami; however, the redesigned main view now emphasizes the most used applications across Office 365. It also highlights additional apps relevant to you. For example, teachers and students may see education-specific apps. This rollout is expected to complete early 2018.
With the new app launcher, your main view will include a default set of apps. After the first time you see the new launcher, apps in the main view will stay the same – unless you choose to customize your apps or an administrator adds/removes licenses. If you have difficulty finding an app, click "All apps" and search through the alphabetized list of apps available.
How To Personalize The Office 365 App Launcher
---
---
---
---
---
---
---
---
---
---
---
---
Available Office 365 Services & Products